Marbella East Area
As the name implies this area encompasses various residential communities that are situated east of Marbella. Stretching from Rio Real to Puerto Cabopino some of the finest coastlines on the entire Costa del Sol are located here. A mesmerizing landscape characterized by lush Mediterranean greenery and pine groves make for a quaint and relaxed environment that is favored by families. Marbella East encapsulates the residential areas of: El Rosario, Elviria, Rio Real, Cabopino, Marbesa, Los Monteros, Hacienda Las Chapas and Bahia de Marbella. While all of them differentiate themselves due to their particular nuances there is also a leading theme for the entire Marbella east community; it offers all the amenities and services a discerning clientele could wish for, hence Marbella east should be considered as a microcosm of its own. Lastly, Marbella east was not over developed and due to its extensive green zones and recreational areas offers a superb atmosphere.
El Rosari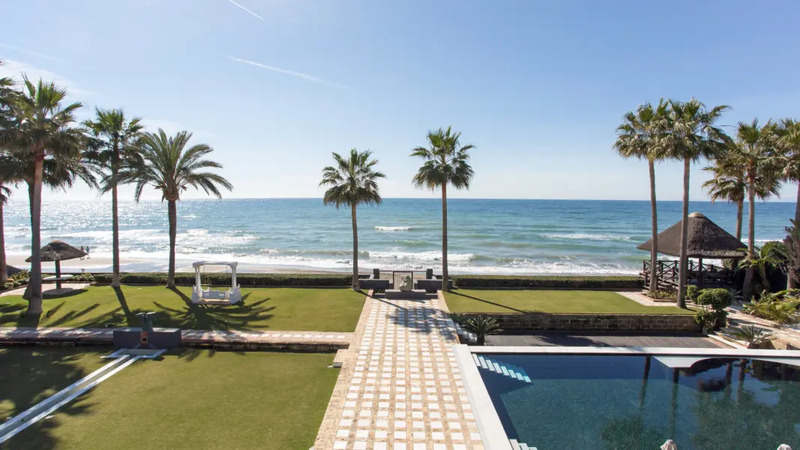 El Rosario is located 2 km from Elviria and merely 1km from some of the most serene beaches on the entire Mediterranean Basin. Split into two zones by the coastal road, many differentiate between El Rosario hillside and beachside. El Rosario hillside features the Nuevo Rosario Commercial Centre, grocery shopping, banking, pharmacies or restaurants – everything can be found in one location here. The hillside area is also in direct proximity to the first-class golf resort of Santa Clara and the acclaimed Marbella Golf and Country Club. Lastly, there is the Royal Tennis Club Marbella, boasting ten state of the art courts (all with night lighting), hence it's the perfect place to improve your game all year long / night or day.
Elviria
Elviria enjoyed growing popularity in recent years, indeed it's often referred to as the rising star of Marbella east. Located between Marbella and Cabopino, it is home to the five star Don Carlos Hotel and the famous Nikki Beach Club. Naturally there is the opportunity for formidable Golf in Elviria as well, the most captivating course must be the Santa Maria Golf & Country Club – it offers a stunning yet challenging 18-hole course. Another uniqueness about Elvira are its large natural dunes that perfectly integrate into the stunning beach scenery. Due to the protected woodland many developments along the shore must abide by strict development regulations, hence a unique and authentic atmosphere is guaranteed. Attractions such as the port of Cabopino are nearby and are ideal for a day trip, be it to the newly renovated Simbad Restaurant, the naturally protected dunes or the various secluded coves. Lastly, Elviria is also a favorite for all connoisseurs of haute cuisine, as the Michelin starred restaurant El Lago resides here.
Rio Real
Rio Real, like many of the communities situated in the east of Marbella, exhibits a plethora of services and shopping opportunities in direct proximity – enabling you to fully enjoy your holidays. The centerpiece is certainly La Cañada Shopping Mall, offering major brands, numerous restaurants as well as a cinema. Another highlight of Rio Real is the emblematic Rio Real Golf course, in existence since 1965 and designed by the legendary Javier Arana; it was ranked as one of the best courses in all of Spain by the Royal Spanish Golf Federation.
Cabopino
Merely a 25 minutes' drive from the Malaga airport, Cabopino is considered by many as one of the most charming and authentic communities on the Costa del Sol. Famous for its picturesque harbor and lovely quayside restaurants one could get the impression that time stood still here. Bordering the protected Artola dunes the beach stretches for several kilometers and is perfect for the ones seeking untouched nature, seclusion and tranquility. Golf plays a leading theme in Cabopino as well; the community features its own 18-hole course in the form of the Cabopino Golf Club. A commercial center with five supermarkets, various excellent restaurants and much more enables the comfortable and carefree lifestyle that is synonymous with Marbella East.
Marbesa
Located between Cabopino and Elviria, the community of Marbesa was one of Marbella's original developments. Dating back to the glamorous 60's it emanates a unique ambience that stems from the European nobility that transformed Marbella into the jet-set destination it is today. In fact, the area served as a venue for the acclaimed American photographer Slim Aarons, noted for his images of socialites, jet-setters and celebrities it is no surprise he was a frequent visitor. This unique charm and heritage of Marbesa is certainly one of the many alluring factors that still today attracts many of its residents.
Los Monteros
Los Monteros established itself as one of the poshest communities in all of Marbella, covering beachside as well as mountainside the area is an oasis of peace, privacy and security – on one of the most coveted locations on the entire Costa del Sol. Beachside Los Monteros is a gated community with 24 hours security, here, leafy streets provide access to exclusive complexes and beachside villas, all with the stunning backdrop of the Mediterranean Sea. The mountainside of Los Monteros is characterized by pine forests and gently sloping hills – facilitating an exceptionally idyllic living experience. Aside from golf courses such as Santa Clara, Río Real or the Marbella Golf and Country Club, Los Monteros is also home to the five-star hotel of Los Monteros with its exclusive La Cabane Beach Club. Situated only ten-minutes from the center of Marbella, and 15 minutes from Puerto Banús, the Costa del Sol Hospital (renowned as one of the best in all of Spain) is located in Los Monteros as well. With such an abundance of attributes it is no surprise that the internationally acclaimed Four Season Hotels chain choose this community for one of its newest endeavours.
Hacienda Las Chapas
Hacienda Las Chapas occupies the area between Cabopino and Elviria, hence it only takes a short five to ten minutes' drive to reach the center of Marbella. Being an urbanization with 24 hour security patrols make it the opportune destination to unwind and recharge one's batteries. Another USP for the area is the "Senda Litoral", the gorgeous coastal path that traverses the entire beachfront of the community. Dotted with upmarket chiringuitos and beachside restaurants make Hacienda Las Chapas also an Eldorado for seafood lovers – here you will be able to enjoy a new restaurant experience every night of the week. Lastly, Hacienda Las Chapas is also an excellent place to engage in any of the various water sports, numerous shops rent out an array of sea-faring equipment including stand-up paddle boards, jet skis or canoes.
Bahia de Marbella
Situated directly east of the Marbella center, Bahia de Marbella offers the perfect equilibrium between urban amenities and striking natural beauty, after all, Bahia de Marbella is locally recognized as one of the most enchanting communities, surely thanks to its fin sandy beaches and graceful dunes. While the center of Marbella is merely five minutes away one can also enjoy various beach bars and chiringuitos – they are virtually at one's doorstep from here... Additionally, there is the Los Monteros Five-star Hotel, perfect to pamper yourself in their recently renovated spa, linger in one of their cabanas at the pool or enjoy one of the many excellent restaurants. Located across the coastal road there are three excellent golf courses, notably: Rio Real, Santa Clara and the Marbella Golf Club.
Culinary
Be it Michelin starred restaurants, Mediterranean cuisine or local chiringuitos there is no culinary craving Marbella can't satisfy. At the same time we understand that such a plethora of different choices can be quite daunting, this is why we put together a list of our top picks in the vicinity of Marbella East.
Luuma Beach Restraurant – Calle Plaza Harmosa 204, El Rosario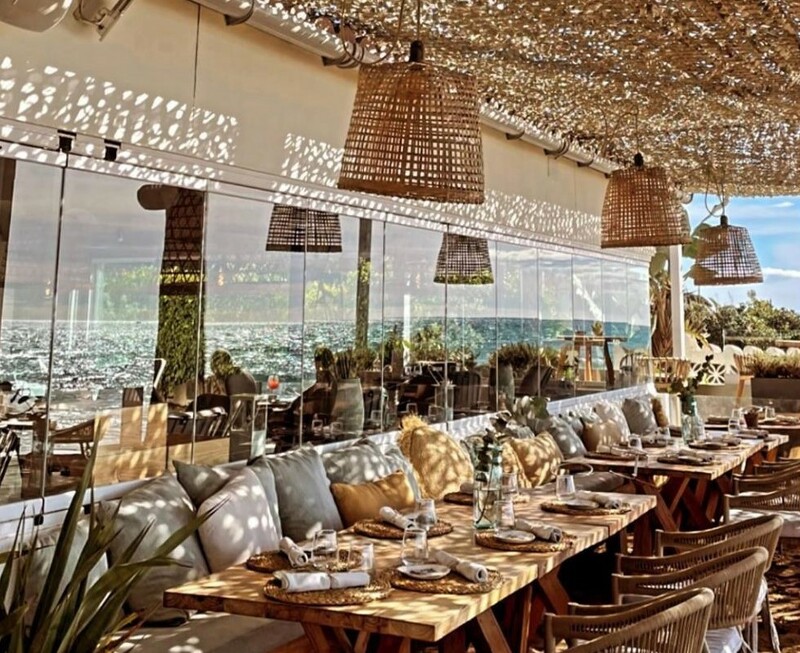 Luuma brings a unique and unexpected experience to Marbella. Idyllically situated, just meters from the sparkling Mediterranean Sea, and on the heaven white sand of El Rosario Beach it makes for a stunning location. Luuma will inspire you to embrace your health and happiness. Their unique environment is filled with unexpected spaces of joy. Enchanting details and hidden corners, walls and ceilings filled with beautiful green plants, natural wood and materials and light colors dance together. Relax on their beach beds with your family and friends, or feel the breeze in your hair while you enjoy a cocktail or fresh juice on their terrace.
Click here for their Website
Don Quijote – Urb. el Rosario, 8, El Rosario
Conveniently located in the Nuevo Rosario Commercial Centre – Don Quijote was awarded the TripAdvisor Certificate of Excellence, a great variety of vegetables, the best in fish and seafood and a selection of mature and fresh meats make it the opportune place for lunch or dinner.
Click here for their Website
Mama's Eat Drink & Chill – Edif. Vidared, Urb. el Rosario
Also located in the Nuevo Rosario Commercial Centre – Mama's Eat Drink & Chill is a restaurant / bakery / concept store… Not only do they offer a delicious breakfast and lunch menu but also serve as a venue for different local events.
Click here for their Website
La Plage Casanis – Urb. Golden Beach s/n, Playa Real de Zaragoza, Elviria
A relatively new beach restaurant with a capacity for 250 guests, in summer it deploys 200 hammocks facing the sea. Be sure to have a look at their quite impressive wine list as well…
Click here for their Website
Ombú Restaurant at the Don Carlos Hotel – Av. Zurita, Elviria
Taste iconic dishes of Thai cuisine surrounded by the exotic nature of a tropical garden bathed by the sea. Start your dinner enjoying the twilight of Costa del Sol and end it beneath a starred dome. Everything in Ombú restaurant adds up to generate a magical and romantic atmosphere.
Click here for their Website
EI Lago – Avda. Marco Polo s/n, Elviria Hills
The history of El Lago began in 2000, when the restaurant of the Greenlife Golf Club House was created, a place, which over time, became a benchmark for Andalusian and Malaga haute cuisine. EI Lago today maintains its Michelin star award for more than 17 years. Recognised with this most prestigious award and Fernando Villasclaras at the head of its kitchen, it is one of the fundamental pieces of the development of haute cuisine in Malaga in the last twenty years and, consequently, in the rest of Andalusia. El Lago offers an authentic, intimate, and seasonal culinary experience, where the main objective is to establish a close relationship with a great team of local producers. During the day it transforms into Midi, a gastronomic proposal that emerged in 2020 to offer the public a more casual option without losing the essence of the restaurant. Thus, Midi conveys to the customer, like Lago, a conscious attitude through its informal and creative proposal within the same space.
Click here for their Website
Simbad Restaurant & Beach Bar – Urb. Marbesa, Marbesa
Simbad is another hidden gem right on the beach in Marbesa. A mix of bohemian and Ibiza it's the perfect location to enjoy the gorgeous sunset or linger at the beach right in front. With an excellent wine card and some of the best "Espetos" we can highly recommend Simbad.
Click here for their Website
Trocadero Arena – Playa de Rio Real Carretera N340 km, Hacienda Las Chapas
Belonging to the Trocadero Group this beach bar was opened in 2018, today it is one of the most exclusive beach restaurants in all of Marbella - guaranteeing a unique experience with every visit. Excellent food in combination with amazing sunsets and an extensive range of drinks and cocktails are some of its trademarks. As is the hallmark of the Trocadero Group, they offer a range of cocktails capable of satisfying lovers of the most traditional cocktails as well as those who demand more modern creations.
Click here for their Website
NOSSO Summer Club – Av. Del Limondar, 124, Hacienda Las Chapas
Paradise found! Nosso is a premier culinary, entertainment and relaxation spot in Marbella. Located on the best beach in Marbella with golden sand and clear waters. Nosso Beach is the essential spot for an exceptional beach day. Experience an authentic Asian-Mediterranean-Nikkei gastronomic selection carefully crafted by their Chef Gema González and her kitchen team.
Click here for their Website
EL Corzo Restaurant at the Los Monteros Spa & Golf Resort – Carretera Cádiz, Km.187, Bahia de Marbella
Los Monteros five star Spa & Golf Resort offers a wide selection of exquisite dishes worthy of a hotel of its caliber, from the fine dining of El Corzo Restaurant, Bar Azul and Flamingo Restaurant by the swimming pool. A special mention goes to La Cabane Beach Club Restaurant, which offers one of the most famous and complete buffets on the Costa del Sol.
Click here for their Website
La Cabane Beach Club at the Los Monteros Spa & Golf Resort – Carretera Cádiz, Km.187, Bahia de Marbella
Club La Cabane offers you the chance to enjoy a VIP experience. Enjoy an unforgettable day in an exclusive reserved area of one of the best beach clubs in the Costa del Sol. Club La Cabane offers free and exclusive parking for guests and direct access to the beach.
Click here for their Website
Nightlife
Opium, Olivia Valere,La Sala and AIR by Breathe are some of our favorite places to enjoy live music, dance and have a night out on the town. Naturally there are also numerous Lounge Bars in Marbella, for this we especially recommend the Puerto Banus area…
Opium Night Club – Carretera N340, Km 184, Marbella
A fascinating venue comprising dipping pools, daybeds and bungalows, here you party with some of the world's most renowned DJs. The music gradually changes from relaxing summer vibes to more festive beats. In the evening, the 4,000 square-meter venue transforms into a moonlit outdoor lounge. Discover the amazing Opium nightlife and dance the night away.
Click here for their Website
Olivia Valere – Carr. Istán, Km 0.8, Marbella
Get carried away by a unique nightlife. The Olivia Valere Club is one of the most legendary clubs on the entire Costa del Sol. Let yourself be mesmerized by a peerless atmosphere, live music and dance performances.
Click here for their Website
La Sala – Calle Juan Belmonte, Puerto Banus
It's the place to be! A trendy, stylish, buzzing venue that is the only restaurant in Marbella that offers live music from renowned musicians and DJs seven days a week.
Click here for their Website
AIR by Breathe – Directly opposite of La Sala in Puerto Banus
Belonging to the Breathe restaurant chain, the main theme at this location is to combine natural ingredients with modern urban architecture. In the evening the scene moves to the panoramic rooftop sky bar – in our opinion one of the most exciting ones in all of Marbella.
Click here for their Website
Nikki Beach – Carretera de Cádiz Km 192, Elviria
Nikki Beach is the Beach Club with the longest standing tradition as it was founded in 2003. Located on a beautiful coastline in Elviria the Club recently underwent renovations and now boasts a large pool and direct views of the Mediterranean Sea, there is also a new terrace with inviting cabanas and sunbeds.
Click here for their Website
Activities

Golf
Santa Clara Golf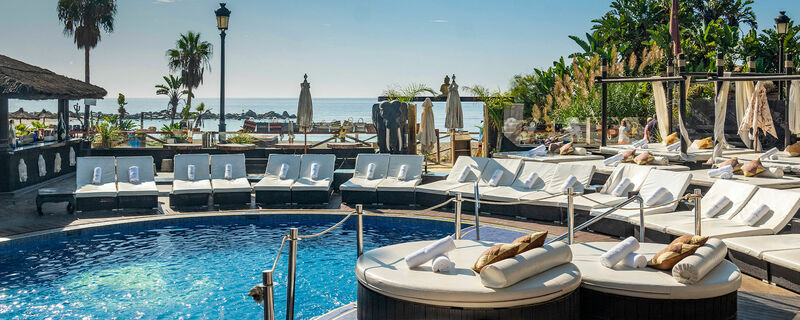 The Santa Clara Golf Course is one of the newer additions in Marbella. Nestled into the eastern section of the Santa Clara community this club offers everything a golfer could wish for. Aside from a Golf Shop the Club also enables one to improve their game via the golf academy which is led by Pablo Del Grosso. Lastly, there is the Kayena restaurant, it offers views over the course and makes for a unique gastronomic experience.
Click here for their Website
Santa Maria Golf & Country Club
The stunning 18-hole course is complemented by quality facilities and services which guarantee a unique golf experience in an incomparable setting. Breathtaking views over the Mediterranean make Santa Maria Golf a must visit on your next getaway to the Costa del Sol.
Click here for their Website
Rio Real Golf Course
Designed by Javier Arana in 1965, this course is named after the Rio Real River that runs along its fairways. With numerous pines, palms, olives and cypress trees and the warm Mediterranean climate it is the perfect all year course. Not to forget: Some of the holes are directly at the seafront and offer awe-inspiring views of the Mediterranean Sea.
Click here for their Website
Cabopino Golf Club
Cabopino Golf is located at the easternmost end of Marbella and faces the Cabopino yachting marina. The 18-hole course was designed by the acclaimed architect Juan Ligués Creus and offers spectacular views of the Mediterranean Sea combined with a beautiful vegetation of wide crowned pines. The course consists of three par 3, two par 5 while the remaining holes are par 4's. The longest hole is the 14th, a 456 meter par 5 with a wide and undulating green protected at the front and rear with lakes.
Click here for their Website


Other Activities
Wellness at the Don Carlos Hotel
The Oasis Wellness & Spa is a spectacular complex, inspired by the concept of Mediterranean serenity – it will enable you to fully disconnect and recuperate during your stay in the heart of the Costa del Sol.
Click here for their Website
Los Monteros Racket Club
Attached to the Los Monteros hotel a newly-refurbished sports facility offers 4 clay tennis courts, 6 glass padel courts, 3 hard tennis courts, a beach volleyball/padel court as well as a snack bar, Gym and a pro shop. Having played host to international tennis competitions in Marbella since the 1970s it's the perfect place to improve your game.
Click here for their Website
Aventura Amazonia - Ziplining
Do you want to feel the sensations of Tarzan flying through the trees? Aventura Amazonia Marbella is the place to be then… 24 ziplines are divided into 6 adventure circuits: MiniKids, Kids, Explorer, Jungle, Adventure and Sports. Different challenges await you, should you dare, there is also a spectacular leap into the void from a height of 12m. Experienced instructors guarantee utmost safety and will guide you, your family or friends through this outdoors adventure park.
Click here for their Website
Kitesurfing and Windsurfing
Marbella is one of the most prominent locations in all of Spain for Kitesurfing as well as Windsurfing. Due to the various coves there is a wide range of difficulty levels, hence from pro to beginner – there is something for everyone! Should you need to rent equipment or even would like to enroll in classes (offered in English, German and Spanish) we highly recommend Windsurf Marbella.
Click here for their Website
Jetski, Beach Buggy, Motorboats and more
For a broad selection of fun motorized water vessels, paddle boards or dune buggies contact Marbella Sport Boats, they even offer a "HydroMonster" – a unique boat, totally different from the existing ones. Its three control axes allow it to tilt sideways, skid flat, dive into the water or jump out of it, indeed it's akin to a motorized shark.
Click here for their Website
Luxury Shopping at Puerto Banus
Just facing the harbour, on Calle Ribera, between Hotel Benabola and the beach, you'll find designer boutiques and shops like Louis Vuitton, Dolce & Gabbana or Loro Piana. Mooring your yacht and only being a stones' throw from the heart of luxury and is indeed something only a few harbours on Earth can offer.
Click here for their Website
Paintball
The paintball center guarantees a fun filled afternoon. All the required gear can be rented on site and a large playing field spiked with inflatables creates the optimal match field.
Click here for their Website