Puerto Banús,
Nueva Andalucía
and the Golden Mile Area

Puerto Banús is situated to the west of the Golden Mile, its vocal point is naturally the prestigious marina that rivals that of Monaco and Saint Tropez. While Puerto Banús provides a very sumptuous ambience it is one of the few jet set locations that stayed true to its roots – taking its visitors back to an era of timeless nostalgia and boundless glamour. Inaugurated in 1970 and inspired by the emblematic design of Andalusian villages it falls perfectly in line with the Marbella Club and Puente Romano Resort. Conceived by its namesake José Banús and the acclaimed Beverly Hills architect Noldi Schreck a momentous launch party was the prelude to the epic tale of Puerto Banús. The lavish grand opening was attended by the likes of Rainer of Monaco and Grace Kelly, Aga Khan and Playboy founder Hugh Hefner, it was rumoured that – in true Puerto Banús fashion – 300 waiters were contracted from nearby Seville in order to serve an astonishing 20 kilos of the best beluga caviar.

Nueva Andalucía…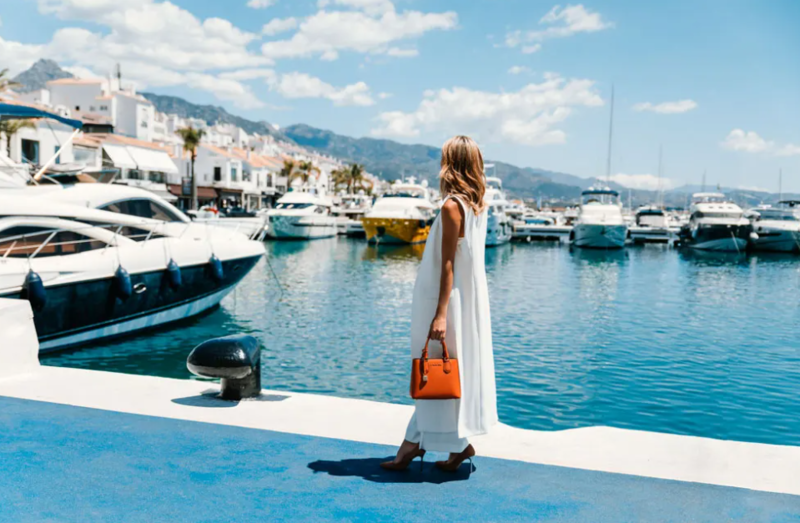 Nueva Andalucía is a large urbanisation located directly above Puerto Banús, revered as one of the best golf valleys it is home to numerous aficionados of the sport.
Developed by the 2nd Marquis of Ivanrey the area is characterised by gorgeous mountain ridges and some of the most spectacular sea views. Amongst others Nueva Andalucía is now home to three leading championship courses; the Aloha Golf Club, Los Naranjos Golf and the Real Club de Golf Las Brisas.
With all imaginable comforts in direct proximity Nueva Andalucía makes for an excellent holiday retreat, regardless if you plan to improve your handicap or rather unwind and take in the serenity.
The Golden Mile Area

The Golden Mile, undoubtedly, is the crown jewel of Marbella and serves as a flagship for the city and indeed the entire Costa del Sol. Encompassing the most exclusive communities, the area is steeped in history and serves as a pillar for the notoriety Marbella enjoys today. The singular ambience of the Golden Mile is further accentuated with the longest seafront promenade in Europe and numerous emblematic estates. Another vocal point for the area is the exemplary Marbella Club Hotel and the Puente Romano Resort. Mirroring Southern Californian elements, stately palm trees line the various boulevards and promenades, while an excellent all year-round climate makes for a truly singular lifestyle.
Cascada de Camojan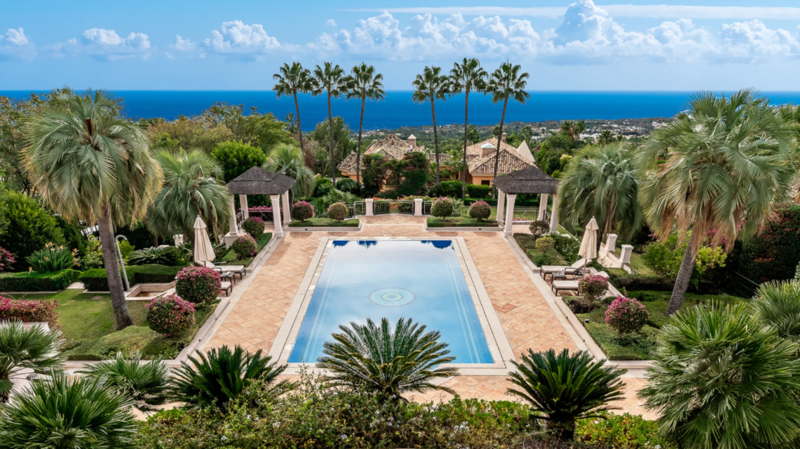 Widely recognized as the pinnacle of luxury in Marbella, the community of Sierra Blanca is often times referred to as the Mediterranean version of Beverly Hills. Indeed, Sierra Blanca and Beverly Hills share a lot of communalities, be it the eternal spring like weather, wide avenues and boulevards that are dotted by iconic palm trees or the fact that they both cater to a high net worth clientele. However, unlike Beverly Hills, the entire area of Sierra Blanca is monitored via a state of the art 24-hour security system and due to its size offers a more intimate atmosphere than its Californian counterpart. Resting approximately 300 meters above the sea the community provides panoramic views of the nearby mountain range and the Mediterranean Basin.
Aside from offering some of the best walking routes in Marbella the Sierra Blanca community is also home to the prestigious Buchinger-Wilhelmi Clinic, it offers therapeutic fasting and integrative medicine in a state of the art environment.
Cascada de Camojan
Situated north of the Golden Mile, Cascada de Camojan is a gated community that boarders Sierra Blanca – while it is every bit as luxurious as its bigger neighbour it differentiates itself due to a less densely built landscape that is characterized by vast green areas and the Arroyo de Guadalpin river. As most of the communities in the Golden Mile this neighbourhood is merely minutes from the Marbella town centre, Beach Side Golden Mile or the Puerto Banus Harbour, yet still offers all the tranquillity and serenity one would expect from a private luxury community. Another residential highlight of Cascada de Camojan is the exclusive Hill Club Sierra Blanca, housing numerous modern luxury villas it is also serves as an example for semi-tropical landscape architecture.
Beach Side Golden Mile
As the name implies this is the epitome of beachside luxury in Marbella, as some of the most grand and fabled estates of the resort town are situated here. The leading theme of Beach Side is its elegant avenue that stretches for approximately 6,5 kilometres, connecting Marbella town and the Puerto Banus Harbour, fringed by majestic palm trees it runs parallel to the shoreline. The cultivation of this pristine area was initiated when the Marbella Club Hotel was built by Prince Alfonso of Hohenlohe-Langenburg in 1954. Gradually the area was further enhanced with luxurious apartment complexes, various designer boutiques, public parks and art galleries. Being such a central location that offers all imaginable comforts it comes as no surprise that even the Saudi royal family selected this area for their vacation palace. Being home to one of the spiritual fathers of Marbella a distinct atmosphere may be experience – reminiscent of Audrey Hepburn, Frank Sinatra or Brigitte Bardot whom all played their part in shaping the unique spirit of Beach Side Golden Mile.
Nagüeles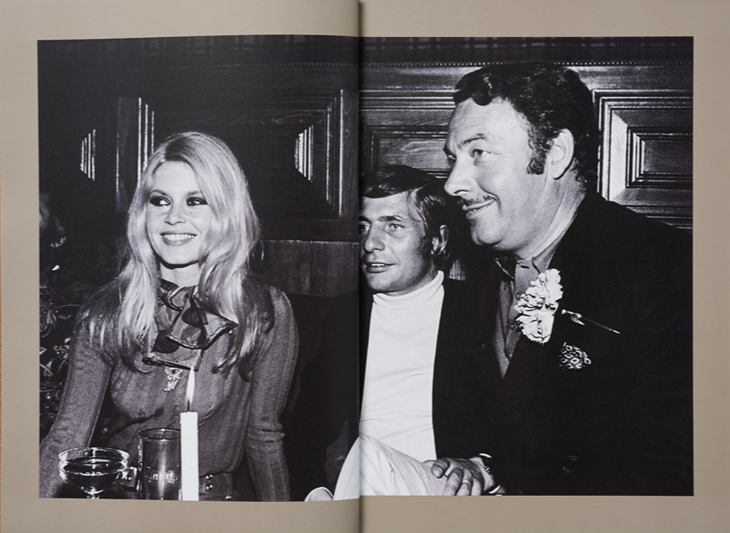 Nagüeles was formed in the most quintessential Spanish manner; it was developed by Manuel González, a renowned bullfighter turned property developer. Similar to Beach Side Golden Mile this area too dates back to the "founding days" of Marbella, indeed Prince Alfonso von Hohenlohe often times preferred to reside in the community of Nagüeles himself.
Highlights of the neighbourhood include La Canada shopping mall, quiet leafy roads that give access to the Marbella centre in under 5 minutes and the Parque Nagüeles – one of the largest public parks on the entire Costa del Sol. In fact, the park accounts for almost one-fifth of the entire suburb of Nagüeles and is home to the chapel of San Bernabé, the patron saint of Marbella.
Should you elect to vacation here you will be rewarded with magnificent views of Gibraltar thanks to the excellent south-west orientation of the community.
Culinary
Be it Michelin starred restaurants, Mediterranean cuisine, local tapas or paella there is no culinary craving Marbella can't satisfy. At the same time we understand that such a plethora of different choices can be quite daunting, this is why we put together a list of our top picks in the vicinity of Puerto Banús, Nueva Andalucía and the Golden Mile.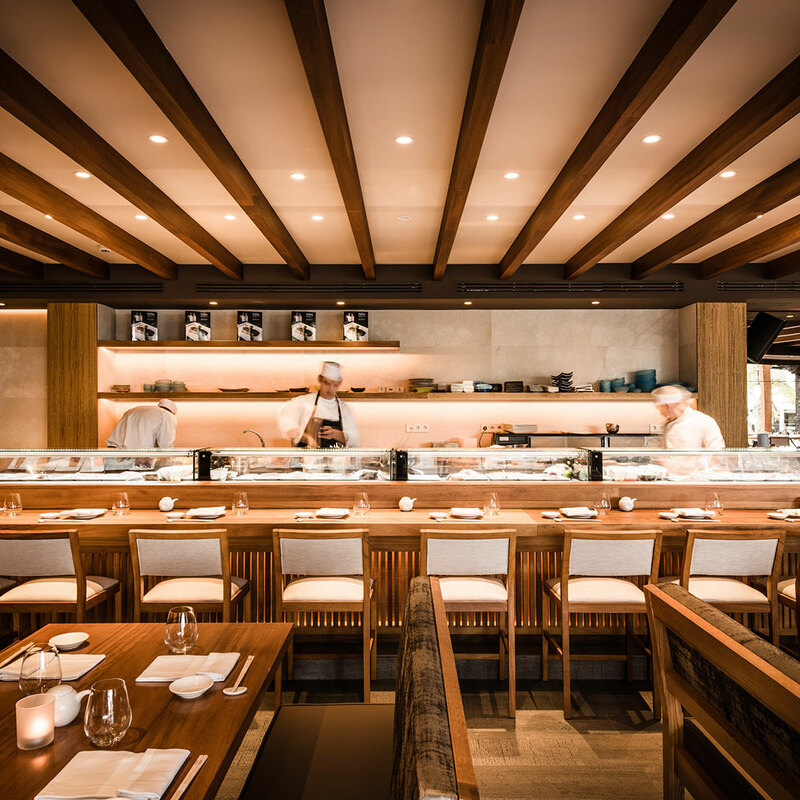 El Txoco de Luis Salinero – Paseo Javier López, Puerto Banus

El Txoco offers a cuisine from North to South, diners can savour a great variety of dishes and products from all over the Iberian Peninsula. Be it baby lamb chops from Ribera del Duero, Iberian "secreto" pork cut from El Valle de los Pedroches or chilled soups such as "ajoblanco" from Malaga – the choice is yours.
Click here for their Website
Pizzeria Picasso – Muelle Ribera, 48/49, Puerto Banus
Somewhat of a legend in Marbella this pizzeria has been in business since 1982. Their success and reputation has been built on outstanding food and service. Be it freshly baked pizza, wonderful pasta, quality meats or fresh fish, enjoy it in direct proximity to the Mediterranean Sea.
Click here for their Website
VÔVEM – C. Yedras, Nueva Andalucia

Vôvem's is an excellent steakhouse, its state of the art maturation chamber enables guests to choose between 14 breeds of beef and veal of different origins, ages and maturation times. We recommend making reservations in advance as they often times tend to be booked out.
Click here for their Website
Casino Marbella – Carretera Nacional 340, K174, Nueva Andalucia
Why not combing your meal with fun at the roulette tables? With Chef Agustín Román at the helm of the GastroBar you will be able to enjoy classics of the Spanish cuisine with an infusions of Hawaiian, Japanese and Moroccan influences.
Click here for their Website
Mogli the Key – Avenida del Prado 37, Nueva Andalucia
The gastronomy of Mogli the Key creatively explores the connection between the techniques and flavors of Mediterranean cuisine with touches of international cuisines such as Asian, Latin and Polynesian. The result is a surprising proposals that takes you on a renewing and refreshing gastronomic journey.
Click here for their Website
Magna Café – Av Calderón de la Barca, Nueva Andalucia
Magna Café offers a cuisine that selects local products to offer creative dishes paired with wines from an extensive cellar. With their new addition JAPO they now also offer exquisite Japanese food.
Click here for their Website
Nota Blu New Brasserie – Cam. De la Cruz, s/n, Golden Mile

Nota Blu is one of the newer additions in Marbella, offering traditional French cuisine with a modern twist it is set in a wide open space, while a timeless yet stylish interior design is enhanced with various modern art pieces. Nota Blu is a place where time stand still; where tradition and innovation coexist in harmony.
Click here for their Website
Momo Marbella – Urb. MarbellaMar 9, Golden Mile
Momo combines international cuisine with Asian touches, their chef Jose aims to satisfy the toughest commensals with an explosion of flavours and uniqueness. The cosy environment of Momo allows to host a wide range of events, from birthday celebrations to intimate wedding ceremonies all the way to receptions for up to 80 people.
Click here for their Website
Sea Grill – Within the Puente Romano Beach Resort
Drop anchor at the Mediterranean's most vibrant restaurant & cocktail bar. With a relaxed daytime vibe, through to golden hour aperitifs and dining under the stars, Sea Grill is your feel-good gastronomic port of call on the shores of an azure bay. From the sun-dappled, sea-view terraces you'll be tempted by aromas from the open kitchen where chefs cook over charcoal and fire.
Click here for their Website
Nobu– Within the Puente Romano Beach Resort
Nobu Matsuhisa's acclaimed restaurant is certain to redefine your dining experience in the heart of Marbella´s Golden Mile. This foodie´s temple, run by Eleni Manousou, Nobu's first female Executive Chef, offers inventive dishes, merging classic Japanese cooking with Peruvian flavours.
Click here for their Website
Leña – Within the Puente Romano Beach Resort
It will come as no surprise to learn that, as a steakhouse, Leña serves up an irresistible duality for its guests: the balance between Dani García's technique and his sense of honesty and respect for the produce. So in the menu he's come up it's all about the raw material and its versatility on the grill, but with a highly personal touch and a real international influence, born of the chef's travels and experiences around the world.
Click here for their Website
Lobito de Mar Marbella – Av. Bulevar Principe Alfonso de Hohenlohe, 178
Offering all that's great about the sea right on Marbella's golden mile, informal yet also sophisticated – Lobito de Mar Marbella is difficult to define, all you can do is experience it. A varied menu and solely serving produce from the best markets across the whole of Andalusia the restaurant serves traditional dishes, based on seafood, tuna, fried fish and rice dishes.
Click here for their Website
Kemuri – Within the Puente Romano Beach Resort
Kemuri is all about savouring Japanese tradition at the right pace. An izakaya where one is invited to stay awhile, and where traditional Japanese cooking combines with the finest Mediterranean flavours. Everything is cooked with seasonal produce of the highest quality. A beautiful Japanese tradition that Dani García has sought to maintain in Kemuri by way of surprising and bringing pleasure to its guests.
Click here for their Website
Alelí Marbella – Av. Bulevar Principe Alfonso de Hohenlohe
Recreating a little piece of Italy, Alelí draws inspiration from La Dolce Vita by Federico Fellini and The Great Beauty by Paolo Sorrentino. Set in a courtyard Alelí invites one to relax, converse and take in the vivid colours. With tastes and sounds that take you back to a time of la dolce vita you will indulge in the spirit of la dolce far niente, perfect for enjoying a glass of Prosecco as an aperitif.
Click here for their Website
Trocadero Petit Playa – Playa Santa Petronila, Paseo Maritimo de Marbella
Located on Marbella's Golden Mile and close to Trocadero Playa, the popular Trocadero Petit Playa maintains a philosophy based on excellent service. Its menu is completely in tune with the group's style, but with a more relaxed and fun touch, ideal for spending the whole day by the sea.
Click here for their Website
Beach Club – Within the Marbella Club
Taking inspiration from the historical 'palapa' roof and reminiscent of 1950's Acapulco, once the playground for the world's elite - and a favoured destination of Prince Alfonso von Hohenlohe. The palette of the Beach Club is awash with hues of minty, tropical greens and vibrant corals with reimagined al fresco hangout areas for guests in the lounge, bar and pool to while away the day.
Click here for their Website
Playa Padre Beach Club – Calle Playa del Cable
Described as destination for mind, body and soul it is the perfect location to linger below tropical palm trees, golden sand and clear blue waters. Savour their exotic signature cocktails and enjoy their delectable Mediterranean cuisine with a Mexican touch.
Click here for their Website


Nightlife
La Sala, Olivia Valere and Tibu are some of our favorite places to enjoy live music, dance and have a night out on the town. Below we provide you with a brief selection of some of the most stunning venues in close proximity to Puerto Banús, Nueva Andalucía and the Golden Mile.
La Sala – Calle Juan Belmonte, Puerto Banus
It's the place to be! A trendy, stylish, buzzing venue that is the only restaurant in Marbella that offers live music from renowned musicians and DJs seven days a week.
Click here for their Website
Pangea – Edificio Club de Mar, Pje. Muelle de Honor, Puerto Banus
Located in a building that is akin to that of a fortress from the middle ages you will enjoy gorgeous views over Puerto Banus. While Pangea certainly falls under the category of a night club many of its guest enjoy the various open spaces which provided a more relaxed and "airy" ambience.
Click here for their Website
Tibu – Plaza Antonio Banderas, Av. de Julio Iglesias, Puerto Banus
Tibu will entertain you with the very best music and live performances from top DJ's and live acts from around the globe. Aside from a huge open-air terrace the club also has its own restaurant, perfect for a culinary excursion that can be topped off with a night out in their adjacent club.
Click here for their Website
AIR by Breathe – Directly opposite of La Sala in Puerto Banus
Belonging to the Breathe restaurant chain, the main theme at this location is to combine natural ingredients with modern urban architecture. In the evening the scene moves to the panoramic rooftop sky bar – in our opinion one of the most exciting ones in all of Marbella.
Click here for their Website
Dreamers Marbella – Ctra. Nac. 340 km 175 Río Verde, Puerto Banus
Luciano, Marco Carola, Bob Sinclar, Carl Cox, Erick Morillo or Swedish house mafia – they were all at Dreamers. Michael Keijzer, the founder and CEO, had the vision to bring the greatest DJ's to Marbella and provide them with a venue with state of the art sound and light equipment, he certainly achieved that with this club.
Click here for their Website
LA HABANA DE HEMINGWAY – Edificio Muelle Levante 7, Puerto Banus
LA HABANA DE HEMINGWAY could be labelled as Disco / Cocktail venue. In existence since two decades it proved itself as one of the best meeting points directly on the frontline of Puerto Banus.
Click here for their Website
Ocean Club Marbella – Avda. Lola Flores s/n, Nueva Andalucia
Ocean Club is the most original and classic beach club in all of Marbella – a reference for style, modern luxury and an atmosphere that made it famous as one of Europe's most elegant locations. Relaxing, partying and enjoying the best that summer has to offer. It all happens around a huge saltwater pool, where super-comfy, extra-large sun beds overlook the Mediterranean Sea.
Click here for their Website
Olivia Valere – Carr. Istán, Km 0.8, Marbella
Get carried away by a unique nightlife. The Olivia Valere Club is one of the most legendary clubs on the entire Costa del Sol. Let yourself be mesmerized by a peerless atmosphere, live music and dance performances.
Click here for their Website
La Suite – Within the Puente Romano Beach Resort
Manhattan loft meets authentic Marbella style, step into a fashionable New York City loft-inspired club mixed with the impressive Roman heritage of the property, and experience a night like never before. Open at midnight in summer from Wednesdays to Saturdays and on weekends during winter, you will find only the most fashionable of partygoers at La Suite.
Click here for their Website
SupperClub – Within the Puente Romano Beach Resort
More than a restaurant, this informal dining experience promises to have you immersed from start to finish. With long tables Mediterranean dining, you are sure to leave with more friends than you arrived, as you chat away and share the memory of one-of-a-kind feasting experience. Prepare to be entertained by spectacular performances and dance the night away.
Click here for their Website
Momento – Urbanizacion Villa Parra Palomeras
Momento is a mixture of cultures, a place to connect and share, and above all that, a temple for music lovers. Momento aims to take you to a whole new reality, where just the present matters and the rhythm of the music serves a bigger purpose. The club is divided into four unique spaces that await you, allow yourself to surrender to the most primary sensation: the joy of living.
Click here for their Website
MOSH Fun Kitchen – Avenida del Prado, Aloha
Mosh could be defined as Club Restaurant, live events accompany delicious meals and signature drinks, past midnight the atmosphere changes from dining to club experience. Should you seek to enjoy the night in a more relaxed manner we recommend you reserve one of their tables on the stunning outdoor "chill" terrace.
Click here for their Website
MAMZEL – Urb. Rio Verde Alto s/n
Mamzel could be defined as another Club Restaurant, the venue is divided into four sections: Park Mamzel hosts the main stage with the DJ booth, the Skybar is located on the upper terrace and offers plenty of greenery and views of the Puero Banus skyline, the Cozy zone is located on the ground floor and is home to an extensive wine cellar, finally there is the top floor with a capacity for 30 guests and views of the open kitchen.
Click here for their Website


Activities Golf
Los Naranjos
Steeped in history, this Golf Club is considered as one of the best in all of Spain. Founded in 1977 and designed by Robert Trent Jones, this 18-hole course played a pivotal role in the Golf career of many professional players. The course still encompasses all the features the Banus Company demanded from Robert Trent Jones when they commissioned him to design it: A true championships course of classic design, long with wide fairways and large greens, suitable for international championships but enjoyable for all levels of players. Should you ever find yourself finishing a round of golf on this stunning course be sure to sample the exquisite premium cuisine of the club restaurant and enjoy the stunning views from the terrace of the club house.
Click here for their Website
Aloha Golf Club
A stunning course that was envisioned by the acclaimed golf course designer Javier Arana. As the crest of the club implies, terrific views of 'La Concha' are guaranteed from almost every tee. While the various shrubs and bushes create a very British ambience one can't be surprised to find out that Javier Arana intended to emulate an English park with this creation.
Click here for their Website
Real Club Las Brisas
Real Club de Golf Las Brisas aspires to be the private club of choice for those who appreciate an exceptional golf experience in a relaxing social environment. Their focus is to provide excellent service, well maintained facilities, superb dining and a variety of social events and recreational activities for the benefit of their Members and their guests.
Click here for their Website
Magna Golf Marbella
Located in the heart of the 'Golf Valley', it is a course with 9 holes of long layout where the designer José María Elguezábal has managed to create a golf course for all levels of play. Magna Marbella Golf is a course of great tradition and with the services of a Pro Shop, Caddy Master, Drive Range as well as an innovative and fun TopTracer training system it surely will satisfy your needs.
Click here for their Website



Other Activities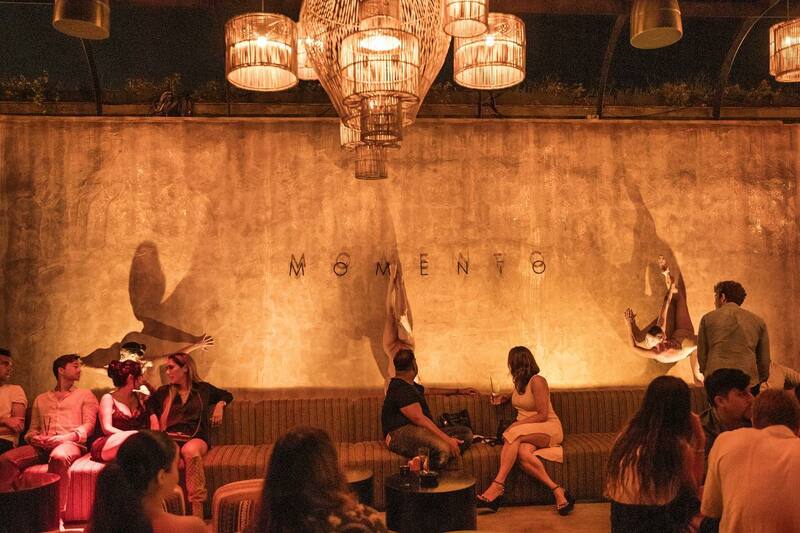 Go for a leisurely stoll in the exclusive Puerto Banús Marina
The port itself has over 900 berths, some of them allow superyachts of up to 50m to anchor. Puerto Banús regularly moors the world's finest superyachts such as the Lady Haya, Azteca or the Solandge. However, Puerto Banús is also a port of call for Christina O, the private motor yacht that once belonged to the Greek billionaire and shipping magnet Aristotle Onassis, he was a regular in Marbella during the glamorous 50s – this mystique can still be felt today and makes Marbella so special for many of its residents and guests.
Luxury shopping in the picturesque alleys of Puerto Banús
On land, the frontline marina is dotted with mostly high-end fashion boutiques and jewellery shops, indeed the shopping is second to none in the south of Spain, as it's the third-largest luxury market after Madrid and Barcelona. Some of the restaurants and café-bars that you will encounter have been open for decades – Salduba and Sinatra Bar are two examples. Just as they welcomed Liza Minelli and Sean Connery in the early 1970s they will welcome you today…
Click here for an overview of the various boutiques
Don't miss Salvador Dalí's rhinoceros in Puerto Banús
Take the opportunity to snap a photo of Salvador Dalí's famous green rhinoceros at Avandia del Mar. The sculpture was unveiled in Puerto Banús in 2004. The El Marbellero statue is also a landmark. It stands an amazing 30 meters high and was a gift from Russian expats in the area to former Marbella mayor, Jesus Gil. It is said to be a representation of Marbella's local residents.
Try your luck at the Casino tables
The Casino is situated in one of the most exclusive areas of the Costa del Sol and in existence since 1978. Discover an exceptional range of leisure and entertainment: slot machines, sports betting area by Sportium, American Roulette, Black Jack, different types of poker and numerous VIP Lounges.
Click here for their Website
Turtle watching at El Lago de Tortugas
As the name implies the lake is home to numerous turtles. Hidden away in the northern part of Nueva Andalucia it's a lost world with probably more water birds taking refuge in this small enclave than in the whole of the rest of Marbella. Children swim in the lake during summer making it the perfect place for a tranquil picnic.
Experience elegant simplicity at the legendary Marbella Club
Founded by Prince Alfonso von Hohenlohe, this now-legendary resort occupies a prime patch of Marbella's Golden Mile, tucked away from the buzz amid peaceful pine groves. A love-letter to slow living, Marbella Club has gracefully evolved from its rustic, motel-style origins to encompass 115 rooms and suites and an impressive collection of 17 villas. However, one does not need to occupy one of their suits in order to enjoy the various amenities Marbella Club has to offer… Their Kids Club, for instance, is one of the best in Europe, making the hotel a paradise for families. The hotel's 8 restaurants and bars make it the perfect nucleus for socialising and enjoying the simple pleasures in life. Marbella Club is also a dazzling destination for wellness, thanks to its sea-spying thalassotherapy spa and heavenly Holistic Studio, set in lush botanic gardens, offering modern, deeply healing, integrative health practices.
Click here for their Website
Rejuvenate at the Six Senses Spa in the Puente Romano Resort
A member of 'The Leading Hotels of the World', Puente Romano Resorts is perfectly situated on the beachfront of the Golden Mile between Marbella and Puerto Banus. Puente Romano's exclusive location allows guests to enjoy a day on the beach along with a large variety of water activities. In 2016, the resort received the prestigious Condé Nast Traveler Award as "Best Resort" in Spain. Alike the Marbella Club amenities may be booked by non-hotel guests as well, hence feel free to book a private fitness lesson in their state-of-the-art Health and Fitness facility, tennis lessons or fully immerse yourself if their Six Senses Spa.
Click here for their Website
Shopping at the La Canada Mall
La Canada is the largest shopping centre in Marbella. It caters to everybody's shopping needs and offers many indoor activities for families. With over 150 shops (fashion and accessories, electronic, furniture...), a huge Al Campo supermarket and ample free parking space, La Canada makes shopping a pleasant experience. It also houses various restaurants, hairdressers, as well as a multiplex cinema. No matter what your shopping needs are you will be sure to find everything conveniently in one place here.
Click here for their Website
Jetski, Beach Buggy, Motorboats and more
For a broad selection of fun motorized water vessels, paddle boards or dune buggies contact Marbella Sport Boats, they even offer a "HydroMonster" – a unique boat, totally different from the existing ones. Its three control axes allow it to tilt sideways, skid flat, dive into the water or jump out of it, indeed it's akin to a motorized shark.
Click here for their Website
Unwind in the Parque Nagüeles – Directly opposite Swans International School Marbella
Parque Nagüeles is optimal to find tranquillity and reconnect with nature in direct proximity to the center of Marbella. Aside from picnic tables and BBQ stations there are also plenty of shaded areas enabling you to enjoy a meal or simply take in the beauty of the surroundings.